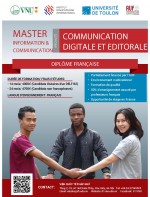 The Master Program in Information and Communication, specializing in Digital and Editorial Communication from University of Toulon and International Francophone Institute (IFI) - Vietnam National University (VNU) is convinced by Francophonie University Association (AUF- Agence Universitaire de la Francophonie) that aims to train communication experts based on the Information Technology background. This program creates opportunities for:
- Supplementing knowledge of digital and editorial communication for French Linguistics; Social Sciences and Humanities students.
- Supplementing knowledge of communication for Science and Technology students.
- Modernizing IT and working skills for journalists, publishers, reporters and editors.